Menstrual hygiene management

Menstrual hygiene management, or MHM, refers to a range of actions and interventions that ensure that people who menstruate can privately, safely and hygienically manage their menstruation with confidence and dignity. MHM is not only about distributing pads or providing education to girls. Effective MHM actions have three main components:
MHM materials and supportive items,
Private, safe and appropriate WASH facilities, and
Information on menstruation and hygiene (including taboos and cultural beliefs).
Red Cross Red Crescent Guidelines and tools
IFRCs Menstrual Hygiene Management guideline and tools​
See below for other languages – Click on any image to download the guideline



Step-by-step resources and relevant documents​​
Download the tools (in Microsoft Word) below for each step of the project cycle – adapt, translate, use, improve.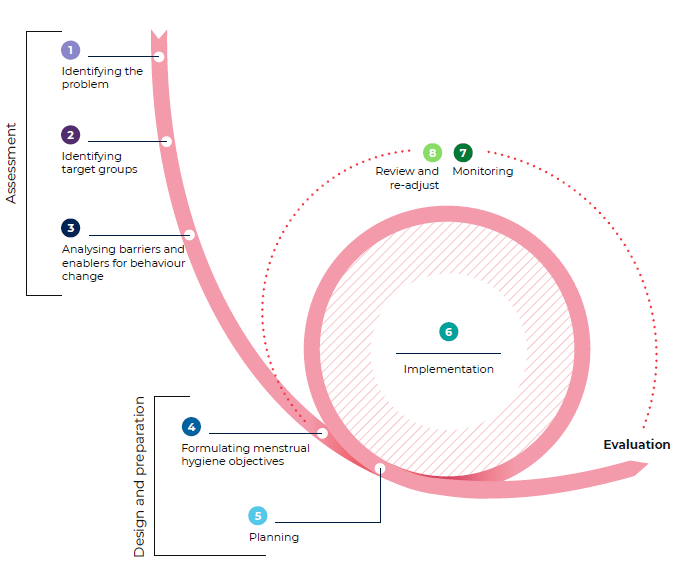 Tool 9: Example IEC materials for disposable pads, reusable cloth pads and tampons which can be adapted and translated. Available in English, French, Spanish, Arabic, Portugese, Swahili and Kirundi. Contact wash.geneva@ifrc.org for design files and raw text.
Download links in the table below
Monitoring, evaluation & learning
Example IEC material for menstrual hygiene
IEC materials for disposable pads, reusable cloth pads and tampons (pre-developed, generic materials in English, French, Spanish and Arabic that can be adapted and translated). Contact the IFRC Geneva WASH team for design files and raw text.
External Guidelines and tools
Red Cross Red Crescent learning resources
IFRCs HIF innovation projects
IFRCs first Humanitarian Innovation Fund (HIF) supported project "Improving Menstrual Hygiene Management in Emergencies" ran from October 2014 until March 2016 and was implemented by Red Cross and Red Crescent Societies in Somalia, Madagascar and Uganda. Many of the resources above have been developed based on this project and using key lessons and recommendations.
This study is one in a series of 15 case studies, undertaken by ALNAP in partnership with ELRHAs Humanitarian Innovation Fund (HIF), exploring the dynamics of successful innovation processes in humanitarian action.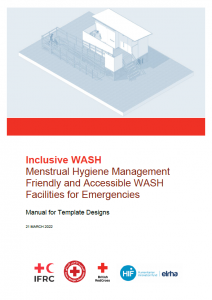 Design and piloting of adaptable, inclusive and MHM friendly emergency WASH facilities: IFRCs HIF project 2020 – 2021
Standard emergency latrine or bathing area designs are often not appropriate for people who menstruate, nor accessible to those with disabilities. To contribute to solving this problem, the IFRC, Lebanese Red Cross, British Red Cross and Arup implemented a project to design and pilot MHM friendly and accessible emergency WASH facilities. This work was supported by Elhra's Humanitarian Innovation Fund (HIF).
Adaptable designs for i) a raised latrine block, ii) bathing block, and iii) trench latrine, including construction drawings, bill of quantities, and step-by-step instructions are available here:
External learning resources
Advocacy and communication material​
On each Menstrual Hygiene Day (28th of May) as well as throughout the year, IFRC continues to advocate for improved actions to address the menstrual hygiene needs of women and girls in the humanitarian contexts. Over 26 million displaced girls and women around the world face challenges such as the lack of access to menstrual supplies, difficulty in finding private and appropriate bathing, drying or latrine facilities, restrictions or stigmas from cultural taboos and traditional beliefs, and a lack of information.
To raise awareness of the challenges women and girls worldwide face due to their menstruation and highlights solutions that address these challenges, including through media work we've created two videos and a series of assets to use as a Facebook and/or Instagram story. Some of could also be repurposed for Twitter.
MHM animation videos for advocacy and trainings are available in the following links :