Red Cross Red Crescent Guidelines and tools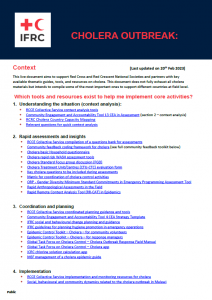 This IFRC document lists key available thematic guides, tools, and resources on cholera. Current as at February 2023.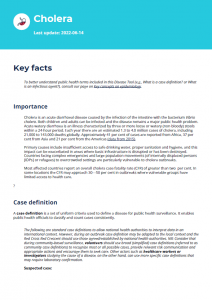 Cholera Disease Tool - IFRC ECV Toolkit
https://epidemics.ifrc.org/manager/disease/cholera
Cholera training packages
IFRC Branch Outbreak Response Training (BORT) for cholera
What?
Training for branch staff and volunteers to respond to disease outbreaks to break transmission routes in health facilities, case households, communities and amongst the most vulnerable.
Format and length of training
Face to face, 4 days.
6 modules, with a mix of theory and practical exercises.
Competency level
Tier B (Able to carry out)
Key content / topics
Key topics include role of the Branch Transmission Intervention Teams; disease transmission routes; WASH interventions in health care facilities, households and community spaces; preparation, use and management of chlorine; and medium to long term interventions.
IFRC Oral Cholera Vaccine (OCV) Training for Volunteers
What?
Training for volunteers aims to provide NSs with the capacity to support both preventative and responsive OCV campaigns which governments have requested. 
Format and length of training
Face to face, 1 day.
4 modules presented through power point and 5 practical activities.
Competency level
Tier B (Able to carry out)
Key content / topics
Giving cholera messages and information; giving information and answering questions regarding the vaccine and the OCV campaign; carrying out rapid WASH assessments of households; setting up and operationalizing vaccine centres and being involved in post campaign activities such as coverage and effectiveness surveys.
IFRC Oral Rehydration Therapy (ORT) Training of Trainers (ToT)
What?
Training for staff and volunteers in Oral Rehydration Therapy preparedness and response at branch and community level, to improve early diagnosis, treatment and referral of cholera cases.
Format and length of training
3 days face-to-face.
Two days theory/classroom, and one day practical simulation exercise.
Key content / topics
ORT Level 1 – cholera and cholera prevention, ORT at community level, reporting and logistics, cholera detection and alert, community mobilisation, stigma prevention and rumour management.
ORT Level 2 – Setting up an ORP and referral system, infection prevention and control (IPC).
Simulation – Installing an ORP, chlorine solution prepration and IPC practice, reconditioning of ORP kits.