Resource for WASH practitioners
Access to safe water and sanitation is a human right.
Our work in WASH involves both a 'hardware' and 'software' approach: On the hardware side, we build WASH infrastructure such as toilets and community water pumps. We also repair or build sewage systems, water storage and water treatment facilities.
On the software side, we run hygiene promotion and behaviour change activities to improve people's knowledge of good sanitation and hygiene practices (such as proper handwashing). We also support communities to effectively manage and maintain their water, sanitation and hygiene facilities.
More and more we are integrating WASH activities into other areas of our long-term and emergency work—from nutrition to protection, gender and inclusion. And we constantly research and innovate new WASH technologies and tools to better serve our communities.
Discover how the Red Cross Red Crescent Movement is at the forefront of responding to global water, sanitation and hygiene (WASH) needs. This site has a wealth of resources for water, sanitation and hygiene (WASH) practitioners collected by the International Federation of Red Cross and Red Crescent Societies (IFRC)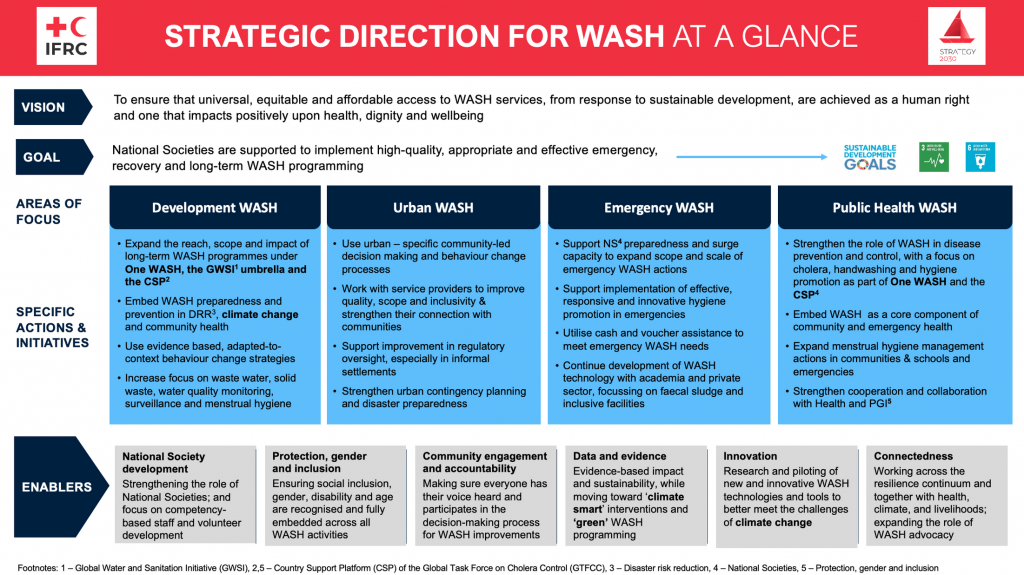 To include resources on this page, or for more information on IFRC initiatives please contact: wash.geneva@ifrc.org