Monitoring and Evaluation
According to the IFRC, monitoring "is the routine collection and analysis of information to track progress against set plans and check compliance to established standards. It helps identify trends and patterns, adapt strategies and inform decisions for project/programme management" .
Evaluation, on the other hand, is "an assessment, as systematic and objective as possible, of an ongoing or completed project, programme or policy, its design, implementation and results. The aim is to determine the relevance and fulfilment of objectives, developmental efficiency, effectiveness, impact and sustainability. An evaluation should provide information that is credible and useful, enabling the incorporation of lessons learned into the decision-making process of both recipients and donors."
On this page, you will find several Monitoring and Evaluation tools which will be helpful for your WASH projects, both in emergency and developmental contexts.
Red Cross Red Crescent Guidelines and tools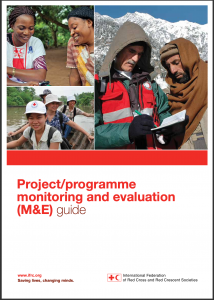 What is this guide?
The purpose of this guide is to promote a common understanding and reliable practice of monitoring and evaluation (M&E) for IFRC project/programmes. It is meant to be a desktop reference that supplements the more concise and field-friendly IFRC PMER Pocket Guide. Therefore, this guide is not intended to be read from cover to cover; the reader can refer to specific topics for more detail when needed.
See below for other languages – Click on any image to download the guideline
External Guidelines and tools
External Learning Resources
To include resources on this page, or for more information on IFRC initiatives please contact: wash.geneva@ifrc.org